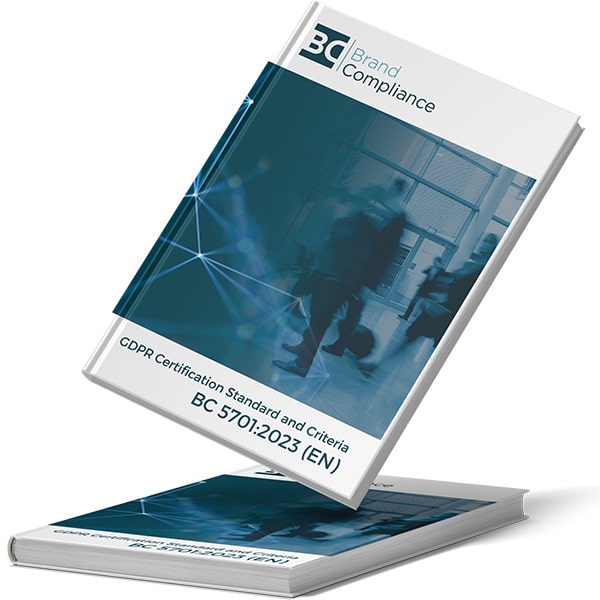 GDPR Certification Standard and Criteria BC 5701:2023 (EN)
€245.00 excl. VAT
| | |
| --- | --- |
| Number of pages: | 172 |
| Format: | Digital PDF document (sent by email) |
| Date of publication: | 23-10-2023 |
| Language: | English |
| Title: | GDPR Certification Standard and Criteria BC 5701:2023 |
GDPR Certification standard and criteria BC 5701 (EN) provides a framework within which organizations can systematically implement the requirements of the GDPR and the associated accountability. The BC 5701 is applicable to all organizations that perform the role of controller and/or processor of personal data, regardless of their size or the type of products and services they provide. After implementation of the BC 5701, organizations may obtain certification in order to demonstrate that they meet the requirements.

Why GDPR Certification?
Brand Compliance received many questions from customers who were looking for an opportunity to demonstrate that they comply with the principles of privacy legislation. Brand Compliance has subsequently developed GDPR Certification standard and criteria BC 5701:2023 (EN). This enables organizations to demonstrate, both internally and externally, that they are meeting their GDPR accountability obligations. The BC 5701 is a practical and verifiable framework with implementable procedures and measures with which organizations can bring their business operations in line with privacy rules and meet the accountability requirements of the GDPR.
Services
Brand Compliance offers various services regarding the BC 5701 certification. From the BC 5701 standard, training, gap analysis to the actual certification.
GDPR whitepaper: download it here and read more about the GDPR certification mechanism.
GDPR Certification Standard and Criteria BC 5701 (EN): a practical framework to meet the requirements of the GDPR.
Gap analysis: our auditors examine where your processing of personal data stands with regard to the BC 5701. After one day at your location, you will receive a report with improvement options.
Certification: Testing that your object of certification, or one or more processing operations of personal data, complies with BC 5701.
Brand Compliance B.V. processes your personal data because you use our services or because you provide it to us yourself, for example by completing the form below. Do you want to know what we use your personal data for?
Read our Privacy Statement.